ICCED 2021 - May 26-28, 2021 -
Kuala Lumpur, Malaysia(Full virtual style)
In the light of the COVID-19 outbreak, ICCED 2020, after close discussion with organizing committees, has decided to postpone 2020 conference (it had planned to be held on Nov. 4-6, 2020 in Kuala Lumpur, Malaysia) to May 26-28, 2021 as the workshop of ICCSS 2021. The main concern of the organizers is to guarantee the health of every participants and ensure a high level of attendance.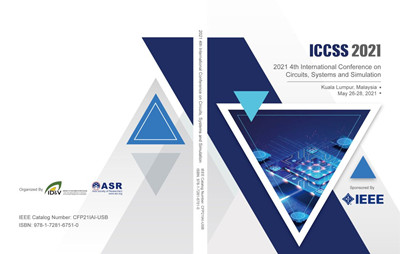 Accepted papers in ICCED 2021 has been published in ICCSS 2021 conference proceedings (ISBN: 978-1-7281-6751-0) as the special chapter.
The conference proceedings entered the IEEE Xplore already.
In 2021 conference, due to the pervasive international travel restrictions, such as, 14 days' quarantine, and the uncertainty of the pandemic, after discussion with committees, ICCED 2021 has decided to be held in full virtual style. Only by this format, we could ensure a high level of attendance from participants around the world.
In 2021 conference, there are around 60 participants from over 10 countries, such as, China, South Korea, Malaysia, Japan, etc. The conference program includes opening remarks by the Conference Co-Chair: Prof. Wei Lei, Executive Deputy Dean of School of Electronic Science and Engineering, Southeast University, China, 4 keynote speeches delivered by Prof. Jin Jang, Fellow of SID, Kyung Hee Univesity, South Korea; Assoc. Prof. Taizoh SADOH, Kyushu University, Japan; Prof. Takashi Noguchi, University of the Ryukyus, Japan; Prof. Amine Bermak, IEEE Fellow, Hamad Bin Khalifa University, Qatar, 6 technical sessions for authors' oral presentations, the award ceremony of best presentation prize and closing remarks by Conference Chair: Prof. Tayeb Mohammed-Brahim, University of Rennes 1, France & Southeast University, China.
Photo Gallery