ICCED 2019 - June 13-15, 2019
Nanjing, China
2019 3rd International Conference on Consumer Electronics and Device (ICCED 2019) has been held successfully in Nanjing, China on June 13-15, 2019, co-located with ICCSS 2019.
Accepted papers in ICCED 2019 has been published in ICCSS 2019 conference proceedings (ISBN: 978-1-7281-3656-1) as the special chapter.
Photo Gallery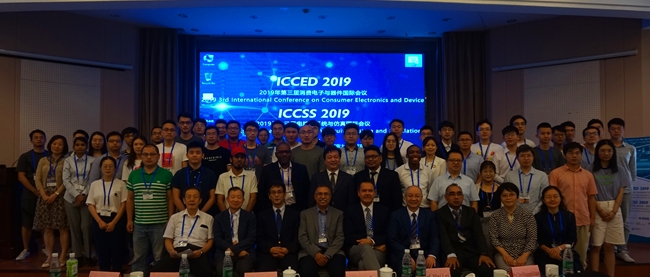 On June 13's afternoon, conference sign-in and materials collection was arranged for the whole afternoon. And meanwhile, we arranged the welcome party for all participants. 
On June 14, Prof. Yongming Tang, the vice dean of school of electronic science and engineering, Southeast University, China made a welcome message at the beginning of the conference. From June 14 and 15, Prof. Massimo Poncino, IEEE Fellow, Politecnico di Torino, Italy, Prof. Jin Jang, Kyung Hee University, Korea, Prof. Mamoru Furuta, Kochi University of Technology, Japan, etc. made the keynote or invited speeches in the conference site.
And oral presentations and poster presentations were arranged in these two days. Finally, after evaluation of conference committees, 1 best oral presentation and 2 poster best presentations were chosen.